| | |
| --- | --- |
| | |
Setting Up for Eudora 4.3 - 5.0.2


1. Click on menu Tools/Options



2.

In Option properties on the Category select Getting Started

3. Insert E-mail address on POP account : And insert Real name in Real name:





4. Select Checking Mail in Category and then setting

- Check for mail every : setting auto chekking e-mail ever ... minute for example you can setting to 5 minute for autochekking mail every 5 minute

- Send on check : for send and receive e-mail one time like Send and Receive in Outlook express program

- Save password : for saving password don't need to insert password every time for chek e-mail .You must insert password for the first time only.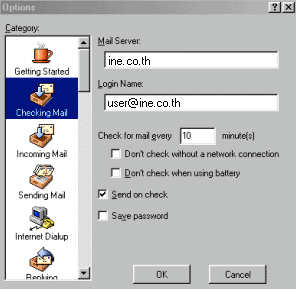 5. Select menu Incoming mail on Category and then setting

- Skip messages over : for skip e-mail wich one had size over than you setting in the picture Eudora will not receive the e-mail size over 40 k.
You can change size what you want.

- Leave mail on server : for leave real mail on the sever and send copy to you.This make you can check mail from anywhere.If you not leave mail
on server. When you check mail it will download mail from the server. That mean you can get the e-mail from another program later.
But you need to download or delete e-mail sometime ,because if you leave mail on sever and don't download of delete it your mail box will full.
And you can not received new mail anymore.

- Delete mail from server after : for auto delelt e-mail every (the day you set)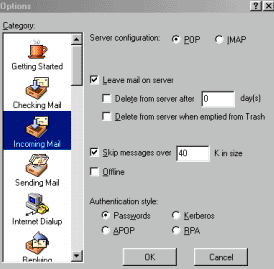 6. Select menu Fonts for setting font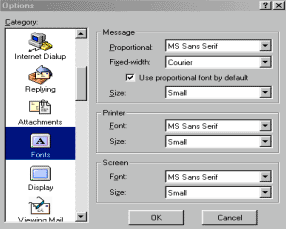 Internet East Co., Ltd.
Bangkok: Queen Sirikit National Convention Center, Zone D, 2 Fl., Room D201/3, 60 New Rachadapisek Rd., Klongtoey, Bangkok 10110
Chonburi: 140 Sriracha Nakorn1 Rd. T.Sriracha A.Sriracha Chonburi 20110
Tel: +66-2-2516404, +66-2-2518449, 02-4028699, +66-38-770395-7; Fax: +66-38-770394